News Articles & Information
---
January 13, 2017
Old Town Hot Springs Executive Director, Pat Carney to Step Down After Leading Organization for more than 40 years
The Board of Directors of Old Town Hot Springs announced today that Executive Director, Pat Carney, has decided to step down effective April 1, 2017 after more than 40 years leading the non-profit community organization. Carney will remain with Old Town Hot Springs in a project director and advisory role. Operations Director, Stephanie, Orozco, will take over as Executive Director on April 1.
Carney first joined Old Town Hot Springs in 1975, when the small bathhouse and single covered hot pool was facing financial difficulties. Under her leadership the organization has grown into a 20,000 square foot facility, with eight pools, two waterslides, locker rooms, massage rooms, café, child care area and a full service fitness center.
Carney has played an instrumental role in overseeing more than six major renovations of the building and historic hot spring pools. Renovations have included the addition of a waterslide and opening of the lap pool for winter use in 1980, adding a second floor to the building to house a fitness center and more locker rooms in 1983, a major expansion of the building in 1991 and a total renovation of the hot pools and waterslide in 2007.
 "It has been a great honor to be a part of this historic, non-profit community icon over the past 41 years of my life. I know first-hand what Old Town Hot Springs means to our community and to be a part of providing a facility that has brought so many together through a common goal of health and wellness has truly been a great joy", said Carney.
Carney will continue to serve the organization in a project director and advisory capacity with a focus on fundraising and special projects. An important priority will be ensuring that Old Town Hot Springs and the facility continue to meet the growing needs of the community, residents and visitors of Steamboat Springs.
 "Our community is growing and we see an increase in visitors every year. It's important to me that this facility always serve as a community center for health and wellness and that Old Town Hot Springs continues to thrive for all members, guests and the community. I look forward to continuing to advance these priorities with the organization."
Orozco brings to the position nearly nine years of service with the organization. She joined Old Town Hot Springs in 2008 and after serving in multiple positions became operations director in 2012. She currently oversees numerous organizational functions including the aquatics program, front desk services, fitness center, accounting, human resources and marketing.
"I'm honored to fill the big shoes that Pat leaves behind, and look forward to continuing to serve the health and wellness needs of the community of Steamboat Springs. I believe we have a great staff in place at Old Town Hot Springs that will allow us to face the challenges and seize the opportunities the future has in store for this organization."
Orozco has lived in Steamboat Springs since 1994. In addition to her time with Old Town Hot Springs, she brings significant sales experience with various companies. Her strong sense of community has developed by volunteering for local organizations including Steamboat Springs Winter Sports Club, Steamboat Springs School District, Heeling Friends, and the Botanical Park over the past 20 years. Orozco along with her husband Rob have two sons, Max (13) and Alex (11).
For more information contact:
Nick Esares
Marketing Director
nesares@oldtownhotsprings.org
---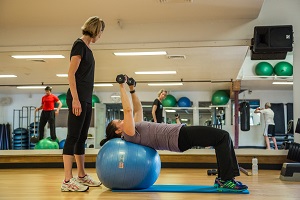 Don't Wait to Weight Train - by Daphne Butas, Personal Trainer at Old Town Hot Springs
Lifting Weights Does Not Mean Bulking Up:
"I don't want to get bulky," or "I don't have time to workout" are both common excuses for avoiding weight training, but did you also know that there are numerous benefits to weight training?
And with the vast selection of ways to weight train available in Steamboat Springs, (Personal Trainers, Barre, Yoga Sculpt, Group Exercise Classes, CrossFit, Resistance Bands, etc.), it is clear that you don't want to wait to weight train.
According to Ronnie Goff, Principal of Awaken Health and Fitness, a wellness expert, ACSM Health Fitness Specialist and Yoga teacher of 25 years, research points to a variety of benefits to weight training, including:
Building lean muscle
Reducing body fat
Decreasing your risk of developing osteoporosis and heart disease
Reducing your risk for back pain
Easing symptoms of depression
"But what I especially love to see is that weight training gives women a sense of their own power- for some, for the first time in their lives."
Amanda Bishop, Rehab Specialist at Sport & Spine Rehab, CrossFit Coach, Certified yoga instructor and health coach says that "strength training not only builds strong healthy muscles, but also builds stronger connective tissues and increases joint stability." Overtime this will help prevent injuries.
Where To Start:
Finding a type of weight training that you enjoy can seem as complicated as picking out the right college or spouse, but the best rule of thumb is to try a few different types of weight training to see what you like. Barre, Pilates, Yoga Sculpt, Group Exercise Classes such as Fierce 4, Total Body Conditioning, and Body Pump abound in Steamboat Springs, so here are the experts' suggestions for taking that first step.
- Ask an expert. Choose classes with a knowledgeable instructor who can help ease your fears and teach you correct form.
- Use light or no weights until you learn proper form for any type of resistance training. You will prevent injuries and stay safe.
- Don't be boring. Mix up reps, sets, weights, and movements to really challenge your muscles and see results faster.
- Listen to your body. If a particular exercise does not seem right for you or hurts, find an alternative.
Have fun. Grab a workout buddy and hit up a new class!