2017 Summer Luau
June 18, 2017 - 4-7 pm
We are very excited to host our 5th Annual Fundraiser on June 18 between 4-7 pm.
The event is an afternoon and evening of family fun at our hot spring pools. In addition to access to our hot spring pools the event features a pig roast and sides, beer and wine, unlimited water slide usage, free Wibi floating obstacle course, music and a silent auction.
The event serves as Old Town Hot Springs' annual fundraiser. Sponsorships, cash donations and donations of goods and services will go toward facility improvements that directly impact the residents, visitors and community of Steamboat Springs. Old Town Hot Springs is the non-profit center for health and wellness in Steamboat Springs, providing recreation and education in aquatics and fitness for our members, guests, and community. Our goal is to ensure that every individual or family in the community can have access to our health promoting facility, services, and programs. As part of our mission and vision we give back annually in sponsorships and donations to selected organizations that align with our mission statement and goals.
Price
Adults: $35
Youth: $10
Family of Four: $85
Ages 5 and under: Free
Tickets are available now at the Old Town Hot Springs front desk!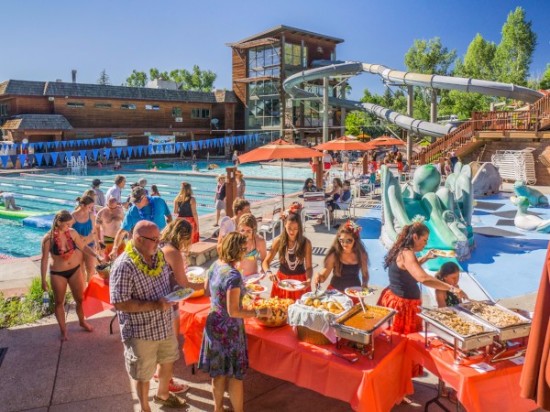 Thank You to our Wonderful Sponsors!